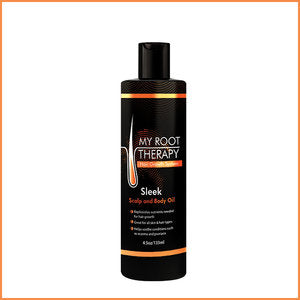 Sleek Scalp Oil replenishes adequate nutrients required for normal hair growth. This oil rehydrates and rebalances the follicles by stimulating the scalp to develop stronger, healthier hair. Sleek ingredients include coconut, neem, and castor oils necessary to promote new growth while restoring damaged hair. This product serves a dual purpose and may be used as a body moisturizer.
Name of collection: My Root Therapy Hair Growth System
Product Features:
• Replenishes nutrients needed for hair growth
• Great for all skin & hair types
• Helps soothe conditions such as eczema and psoriasis
Application: To reduce the occurrence of dandruff or dryness, lightly oil the scalp immediately after using Glaze Hair Conditioner. Be sure to only oil the scalp and not the hair to minimize an oily finish. Gently massage the scalp. Rinse with cool water. For excessive dryness do not rinse. Style as usual. May also be used as a body moisturizer.
Ingredients: Grapeseed Oil, Olive Oil, Castor Oil, Avocado Oil, Neem oil, Pumpkin Seed Oil, Sesame Seed Oil, Safflower Seed Oil, Rice Bran Oil, Coconut Oil, Hemp Oil, Eucalyptus Oil, Lemon Grass Oil, Tea Tree Oil, Lavender Oil, Ylang Ylang Oil, *Sweet Orange Oil