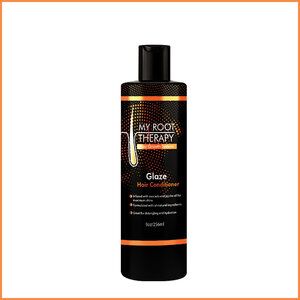 Our conditioner offers deep moisturizing and detangling ingredients that nourish your hair and scalp. The conditioner contains burdock root, rosemary, and jojoba oil to provide a holistic formula packed with nature's most potent minerals and naturally grown botanicals. Glaze Hair Conditioner is free of sulfate, parabens, and other harsh chemicals. Enjoy the feel of your hair being moisturized, healthy, and baby soft. 
Name of collection: My Root Therapy Hair Growth System
Product features:
• Infused with avocado and jojoba oil for maximum shine
• Formulated with all-natural ingredients
• Great for detangling and hydration
Application: Separate hair into four equal quadrants. Apply a dollop of conditioner to each section from root to end and leave on for 5-10mins. Rinse with cool water. For extra conditioning use Virtue Leave-In Refresher. Follow up with Sleek Scalp and Body Oil to minimize dryness and dandruff. Style as usual
Ingredients: Purified Water (Aqua), Vodka, Aloe Vera, Herbal Blend (Tincture), Certified Organic Blend of Marigold (Calendula Officialis), Burdock Root (Arctium Lappa), Nettle Leaf (Urtica Dioica), Rosemary (Rosemary Officialis), Jojoba Oil (Simmondisa Chinensis), Hemp Seed Oil (Cannabis Sativa), Vitamin E (Tocopheryl Acetate), Oatmeal Protein, Vitamin B5 (Panthenol), Cetyl Alcohol, Polyglyceryl-3 Oleate, Polyaminopropyl Biguanide.